Archive for » August 18th, 2013«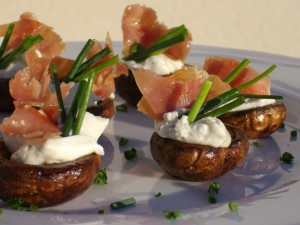 This is a very quick  and easy appetizer to put together, it would also make a great finger food for parties. I have listed ingredients below for 12 mushrooms but if you wanted to make it as a finger food you can just up the ingredient amounts. I have also made this with extra garlic in the cream cheese as we love our garlic so take your pick in whether you want to just use the garlic and herb cream cheese alone or whether you fancy adding extra crushed garlic to cheese .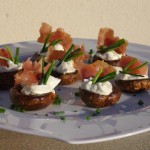 Ingredients
120 g garlic and cream cheese with herbs
12 medium mushroom caps, with stalks removed (I used swiss Brown)
Garlic olive oil
salt and pepper
100 g prosciutto, grilled until crisp and broken into stips
chopped fresh chives (to garnish)
Method
1.Heat oil in a pan, season mushrooms to taste.
2.Add mushrooms to the pan cook both sides until tender, remove and allow to cool slightly.
3.Spoon a dollop of the cream cheese into the mushroom caps, top with the prosciutto strips and sprinkle with chives.
Serve Immediately
Prep Time 15 Min's
Total Time 30 Min's
All photos taken by me unless otherwise stated.