Tag-Archive for » Chicken «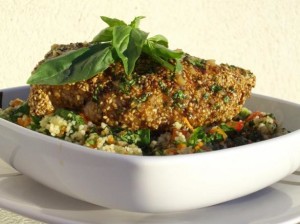 This is a wonderful chicken recipe that is so flavourful and the sauce is so yummy. You can serve this delicious dish with with vegetables and rice or a couscous. I chose to serve ours over an Asian inspired couscous for a lovely and a little bit of a lighter meal than rice. I know both are packed with carbs I just feel that couscous is less starchy and therefore feel a lot better after eating this than rice. I will also make a note that when browning the breast on the stove top be it gas or electric please pay attention as the sesame seeds burn quite quickly and you do not want that, hence finishing them in the oven.
Ingredients
4 boneless skinless chicken breast
salt and black pepper
1 cup sesame seeds
1/2 teaspoon chili flakes
1 tablespoon vegetable oil
Sauce
1 teaspoon vegetable oil
4 garlic cloves, chopped
1 tablespoon chopped gingerroot
1/2 cup wine, mirin (or any good rice wine)
1 cup chicken stock
1 tablespoon hoisin sauce
2 tablespoons Asian chili sauce
1/2 teaspoon dark sesame oil
1 teaspoon fresh basil, chopped
soy sauce
Directions
1. Preheat oven to 350*F. For the chicken breasts, season chicken with salt and pepper.
2. In a small bowl, mix sesame seeds and chile flakes and then dredge the chicken breasts in the mixture to coat them.
3. Heat vegetable oil in a large saute pan until smoking hot. Add chicken breasts and brown each side well, about 2 minutes per side.
4. Remove chicken from pan and transfer to a baking pan. Bake for another 15-20 minutes until the chicken breasts are just cooked through. Times will vary depending on oven temp and size of breast.
Sauce
1. While the chicken breasts are baking, heat veg. oil in the same pan you removed them from. Add the garlic and gingerroot and saute until you can smell the aroma, 1 to 2 minutes over high heat.
2. Add mirin wine and boil over high heat until reduced by half, 2 to 3 minutes.
3. Add chicken stock and boil over high heat to reduce a bit, 2 to 3 minutes.
4. Add hoisin sauce and chile sauce to saute pan and bring to a boil. Season with sesame oil, basil, and soy sauce.
Serve chicken breasts over steamed rice or couscous.
Serve half of the sauce over the chicken and the remainder on the side. This will not be a very thick sauce; it is meant to be thin and light.
Serves 4
Très Délicieux
All photos taken by me unless otherwise stated.
Be sure to check out my new YouTube channel where I will be adding more recipes and instructional videos to.
I am posting a Gluten Free recipe to give some love to all my followers who are gluten intolerant. Be sure to make sure that the ingredients you buy are listed as gluten free to make sure that it is truly gluten free if required for your diet. The dipping sauce is delicious and compliments these little gems perfectly I have listed adding rice wine or sherry I like to do a combination. I hope you enjoy.
Ingredients
Chicken Balls
2 chicken breast fillets
3 tablespoons vegetable oil
1 brown onion, finely diced
1/2 stick celery, finely diced
1 tablespoon gluten-free soy sauce or 1 tablespoon Braggs liquid aminos
1 egg, lightly beaten
salt, to taste
pepper, to taste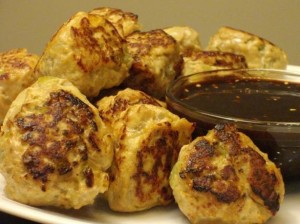 Oriental Dipping Sauce
3 tablespoons soy sauce, gluten-free or 3 tablespoons Braggs liquid aminos
1 tablespoon oyster sauce, gluten-free
2 tablespoons rice wine or 2 tablespoons dry sherry
1 teaspoon toasted sesame seeds
Directions
1. Dice the chicken fillets into very small pieces.
2. Heat 1 tablespoon of oile in a preheated wok or frypan/skillet and and stir-fry the chicken over high heat for 3 minutes or until golden. Remove from wok and set aside.
3.Add the finely diced onion and celery to the wok and stir-fry for 1-2 minutes, until softened.
4. Place the cooked onion, celery and chicken into a food processor and process until finely minced.
5. Add soy sauce and enough egg to make a firm mixture. Season with salt and pepper.
6. Using damp hands, shape the chicken mixture into about 30 balls. Refrigerate.
Dipping Sauce
1. Mix all the sauce ingredients in a small bowl and set aside.
Finish Meat Balls
1. Heat the remaining oil in a wok or pan and stir-fry the chicken balls until golden. Brown a few at a time- 6 was suggested inthe original recipe.
2. Drain the chicken balls on paper towel and keep warm.
Serve the chicken balls on toothpicks with the dipping sauce.
Bon Appetit
All photos taken by me unless otherwise stated
Please check out my new YouTube channel The Real Female Flying Chef