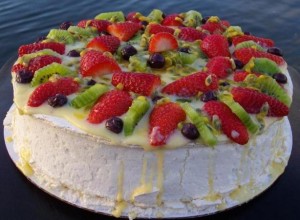 I make pavlova all the time especially during summer when you are having many BBQ's it is a great dessert and a great thing to take to someone else's gathering. I usually make mine with just fresh fruit on top, drizzle passionfruit over and serve with extra whipped cream on the side. This is a little different take on the more traditional pavlova with a drizzle of lemon cream. Feel free to change up the choice of berries or fruit to suit your taste.
Ingredients
1 cup sugar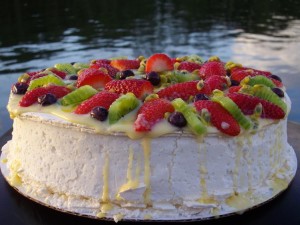 1 tablespoon cornstarch
4 egg whites, room temperature
1/4 teaspoon cream of tartar
1 pinch salt
1/4 teaspoon vanilla extract
parchment paper
1 (10 ounce) jar lemon curd
1/3 cup sour cream
mixed berry (can add or sub mango, kiwi, strawberry, etc.)
fresh lemon zest
Directions
1. Preheat oven to 225°. Whisk together sugar and cornstarch. Beat egg whites at medium-high speed with a heavy-duty electric stand mixer 1 minute; add cream of tartar and salt, beating until blended. Gradually add sugar mixture, 1 tablespoons at a time, beating at medium-high speed until mixture is glossy, stiff peaks form, and sugar dissolves. (Do not overbeat.) Beat in vanilla. Gently spread mixture into a 7-inch round on a parchment paper-lined baking sheet, making an indentation in center of meringue to hold filling.
2. Bake at 225° for 1 hour and 30 minutes or until pale golden and outside has formed a crust. Turn oven off; let meringue stand in oven, with door closed and light on, 12 hours.
3. Meanwhile, whisk together lemon curd and sour cream until smooth. Cover and chill.
4. Spoon lemon mixture into center of meringue, and top with fruit. (Center of meringue may fall once the lemon mixture and berries have been added.) Garnish with zest, if desired.
Note: The picture you see is with upped eggs whites than listed as I was throwing a large party and wanted to make a very big meringue.
Très Délicieux
All photos taken by me unless otherwise stated
Leave a Reply