Tag-Archive for » mushrooms «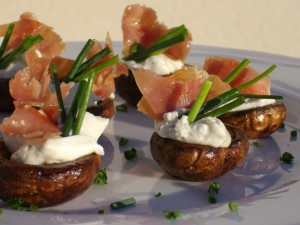 This is a very quick  and easy appetizer to put together, it would also make a great finger food for parties. I have listed ingredients below for 12 mushrooms but if you wanted to make it as a finger food you can just up the ingredient amounts. I have also made this with extra garlic in the cream cheese as we love our garlic so take your pick in whether you want to just use the garlic and herb cream cheese alone or whether you fancy adding extra crushed garlic to cheese .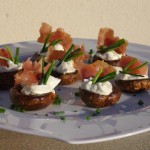 Ingredients
120 g garlic and cream cheese with herbs
12 medium mushroom caps, with stalks removed (I used swiss Brown)
Garlic olive oil
salt and pepper
100 g prosciutto, grilled until crisp and broken into stips
chopped fresh chives (to garnish)
Method
1.Heat oil in a pan, season mushrooms to taste.
2.Add mushrooms to the pan cook both sides until tender, remove and allow to cool slightly.
3.Spoon a dollop of the cream cheese into the mushroom caps, top with the prosciutto strips and sprinkle with chives.
Serve Immediately
Prep Time 15 Min's
Total Time 30 Min's
All photos taken by me unless otherwise stated.
I have a recipe for a more traditional chicken marsala, that we enjoy but thought I would play around a bit the other night and came up with this one. It turned out really well and whilst I probably still prefer the more traditional recipe this make a nice change. I made this for just 2 of us but the sauce ingredients would make enough for 3 people and would probably stretch to 4 servings if you do not like things very sauce as we do. I served ours over wild rice and asparagus so we enjoyed the extra sauce over the rice.
Ingredients
Olive oil
2-4 Chicken breasts (see note above on servings)
Sauce
2-3 Tablespoons butter

300g Mushrooms, sliced
3 Green onions, sliced thinly
1/2 Cup Marsala wine
11/2 Teaspoons chicken stock granules
1 Cup water
1/2 Lemon, juice of
1/2 Cup cream
1 Tablespoon basil, chopped finely
1 Tablespoon cornflour
Pepper to taste
Parsley to sprinkle over (optional)
Method
1. Heat a little olive oil in a fry pan add chicken breasts, cook until browned on both sides about 6-8 Min's a side, remove and set to one side. (It is not to important to cook chicken all the way through as it is added back to the pan at the end, so it will finish cooking then.)
2. Wipe pan clean, melt butter in same pan, add mushrooms, cook stirring a couple of times for 5 Min's, add green onions, cook a further 2 Min's.
3. Add marsala, stock, water and lemon juice, stir to combine, add cream and basil, stir again until combined.
4. Mix a little water with the cornflour, add to sauce stir until mixture thickens, season with pepper.
5. Return chicken to pan, simmer gently until chicken is heated through.
To Serve: Slice chicken breasts thickly, arrange on plate and spoon sauce over, sprinkle with parsley if desired.
All photos taken by me unless otherwise stated.