Tag-Archive for » Prosciutto «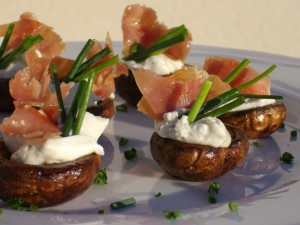 This is a very quick  and easy appetizer to put together, it would also make a great finger food for parties. I have listed ingredients below for 12 mushrooms but if you wanted to make it as a finger food you can just up the ingredient amounts. I have also made this with extra garlic in the cream cheese as we love our garlic so take your pick in whether you want to just use the garlic and herb cream cheese alone or whether you fancy adding extra crushed garlic to cheese .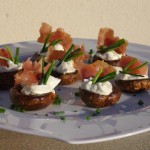 Ingredients
120 g garlic and cream cheese with herbs
12 medium mushroom caps, with stalks removed (I used swiss Brown)
Garlic olive oil
salt and pepper
100 g prosciutto, grilled until crisp and broken into stips
chopped fresh chives (to garnish)
Method
1.Heat oil in a pan, season mushrooms to taste.
2.Add mushrooms to the pan cook both sides until tender, remove and allow to cool slightly.
3.Spoon a dollop of the cream cheese into the mushroom caps, top with the prosciutto strips and sprinkle with chives.
Serve Immediately
Prep Time 15 Min's
Total Time 30 Min's
All photos taken by me unless otherwise stated.
I made both of these recipes the other night from zaar members both were excellent, but probably a bit heavy together, this would also be because I served a tarragon cheese sauce with the chicken. The sauce was wonderful and went well with the chicken but I should have served it with a side salad or just plain broccoli as all that richness together was just too much and too filling. I will list all the recipes though because by themselves they were wonderful. Instead of making the chicken as little rolls I did mine as whole breasts and served as main dish. I think I preferred it this way it made it easy to handle the chicken and I did not loose any filling as I expect you would if you made this as suggested. To read more reviews and see more photos of the chicken recipe please click
here
. I will post a link to the broccoli recipe below with the listed recipe.
Ingredients
2 Half chicken breast fillets (no skin, trimmed of fat)
1/2 Onion, finely chopped
2 Garlic cloves, crushed
10 Button mushrooms, finely sliced
2 Tablespoons olive oil

1/2 Cup cream cheese
4 Slices of thin prosciutto (or bacon)(I used more.)
Method
As I said above I kept my chicken as whole breasts I think it made it easier, so take your pick.
1. Sit your chicken breast on a chopping board and slice it all the way through the middle (like you are filleting a fish).
2. You should have two almost identical top and bottom pieces of chicken.
3. Repeat for the other breast; set aside.
4. Heat 1 Tbsp oil in pan and add onion, fry until almost transparent and then add garlic. Stir occasionally.
5. Cook for 2 minutes then add sliced mushrooms.
6. Remove from heat and allow to cool.
7. Put your chicken breast between two freezer bags and pound it so that it is quite thin then cut it half along the long edge.
8. Ok you should now have four chicken pieces- spread each with cream cheese then divided the onion/mushroom mixture between them (spread the cream cheese and the mushroom all over the chicken).
9. Roll the chicken up tightly then roll a piece of prosciutto around it and secure with a toothpick, repeat.
10. Heat 1 tbsp oil in pan and over medium/high heat seal the chicken parcels on all sides.
11. Lower the heat and continue cooking until chicken is cooked through (about 10-15 minutes, depending on the size of your breast– lol).
Either serve as is with your favorite sauce or cut into slices to serve as nibbles or entrée.
Serves 2
Tarragon Cheese Sauce


Ingredients
1 Cup water
50ml Dry white wine
1 Teaspoon chicken stock granules
1 Teaspoon french mustard
3 Tablespoon parmesan cheese, grated finely
1/2 Cup cream
3 Teaspoons cornflour
2 Tablespoons tarragon
Method
1. Add water, wine, stock and mustard, to a saucepan, bring to the boil, reduce heat.
2. Mix a little water with the cornflour and add to sauce, stir to thicken, Add cream and cheese, stir until cheese is melted, stir in tarragon and serve immediately.
Broccoli Dijon
Ingredients
1-1 1/2lb Broccoli
2 Tablespoons butter
1 Medium onion, finely chopped
2-4 Garlic cloves, finely chopped
1/2 Cup sour cream
1 Tablespoon dijon-style mustard
1 Tablespoon lemon juice
Salt & freshly ground black pepper
Method
1. Cut the broccoli into florets and slice the stalk.
2. Steam or boil until tender but still firm and bright green.
3. Heat the butter in a skillet over medium heat and saute the onion and garlic about 5 minutes until tender but not brown.
4. Add the remaining ingredients and stir over low heat.
5. Spoon the sauce over the broccoli and serve immediately.
Serves 4-6
To change serving sizes or to read more reviews or see more photos click here.