My family grows thier own tomatoes so this is a great one to use up all those fresh picked tomatoes and it really hits the spot. I have made this a few times and it has always been met with rave reviews. You can make as many or as little as you like and just adjust accordingly. Also i prefer to use home made pesto as I make it so often so always have it on hand, but you can use your favourite store bought brand and it works just as well.
Ingredients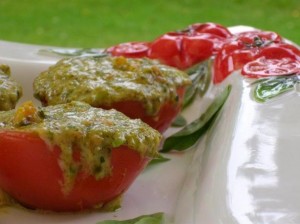 2 Tomatoes, halved lengthwise and seeded
salt & freshly ground black pepper
2 tablespoons basil pesto
1/3 cup gruyere cheese, grated
2 green onions, including green tops, sliced
2 tablespoons fresh parsley, chopped
Directions
1. Drain tomatoes, cut side down on paper towels for 10 minutes.
2. Place cut sides up in 8×8 baking dish, coated with cooking spray.
3. Season with salt and pepper.
4. In a small bowl, combine pesto, cheese, onions, and parsley.
5. Spread each tomato half equally with mixture.
6.Bake at 350 degrees, uncovered until tomatoes are warmed through and cheese is melted, 8-10 minutes.
Note: Do not overcook, as tomatoes will get mushy.
Leftovers reheat nicely.
Serves 4-6 as a side or an appetizer
Bon Appetit
All photos taken by me unless otherwise stated.
Be sure to check out my new YouTube channel The Real Female Flying Chef.
Leave a Reply