Tag-Archive for » Cream Cheese «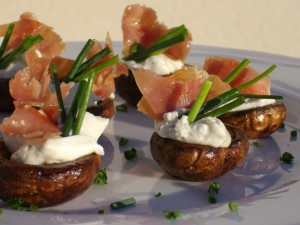 This is a very quick  and easy appetizer to put together, it would also make a great finger food for parties. I have listed ingredients below for 12 mushrooms but if you wanted to make it as a finger food you can just up the ingredient amounts. I have also made this with extra garlic in the cream cheese as we love our garlic so take your pick in whether you want to just use the garlic and herb cream cheese alone or whether you fancy adding extra crushed garlic to cheese .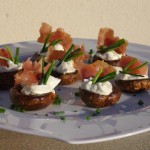 Ingredients
120 g garlic and cream cheese with herbs
12 medium mushroom caps, with stalks removed (I used swiss Brown)
Garlic olive oil
salt and pepper
100 g prosciutto, grilled until crisp and broken into stips
chopped fresh chives (to garnish)
Method
1.Heat oil in a pan, season mushrooms to taste.
2.Add mushrooms to the pan cook both sides until tender, remove and allow to cool slightly.
3.Spoon a dollop of the cream cheese into the mushroom caps, top with the prosciutto strips and sprinkle with chives.
Serve Immediately
Prep Time 15 Min's
Total Time 30 Min's
All photos taken by me unless otherwise stated.
This is a different way to prepare tuna than I usually do, I found this recipe and it sounded really good so I thought I would try it. I really enjoyed it as something different and it all came together really well. I served ours over asparagus, mushrooms and sun-dried tomatoes. I made a few changes to the original recipe which I have listed below but if you would like to view the original recipe please click
here
.
Ingredients
1 Cup Italian salad dressing
2 Tablespoons lemon juice
1 Teaspoon garlic powder
1/2 Teaspoon red pepper
1/2 Teaspoon tarragon leaf

2lbs Tuna steaks (1 inch thick)
1/4 Cup butter
1/2 Cup chopped onion
1 Cup chopped green onion
1/2 Cup chopped bell pepper
1 Tablespoon lemon juice (extra)
1 Teaspoon vegetable stock powder
1 Cup cream cheese
1 Cup half-and-half cream
1 Cup chopped cooked shrimp (I kept mine whole)
11/2 Tablespoons tarragon, chopped finely (extra)
2 Tablespoons chopped parsley
Method
1. Combine salad dressing, lemon juice, garlic powder, red pepper, and tarragon leaves in a 2-quart mixing bowl. Blend thoroughly. Add tuna steaks to the blended marinade sauce, coating each steak thoroughly with the sauce. Cover tuna steaks and refrigerate at least 2 hours or preferably overnight.
2. Remove tuna steaks from marinade sauce and cook in a lightly oiled, heated pan until cooked as desired. I like mine quite pink so I cook mine 3-4 Min's per side depending on the thickness
3. In a saucepan, melt butter over medium heat. Add chopped onions, green onions, and bell pepper. Saute until vegetables soften.
4. Add lemon juice, stock, cream cheese and half & half. Stir over low heat until cream cheese melts and sauce thickens. Add chopped shrimp, tarragon, and parsley to sauce.
5. Blend thoroughly and cook sauce over low heat until while you cook the tuna steaks.
To Serve: Place tuna on a plate and pour shrimp sauce over steaks.
All photos taken by me unless otherwise stated.