Archive for » August 12th, 2013«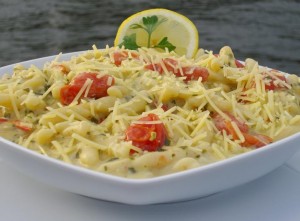 I made this from a food member who's recipe I tagged to make and review and it was very good indeed. I was catching lots of crabs at the time from the end of my jetty and was looking for ways to use the crab meat.  She had stated in her notes about the recipe that it was taken from Australian Good Food. If you want to view the original recipe from this person please click here.
Ingredients
400g trofie pasta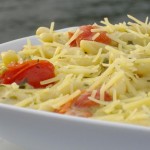 1 tablespoon olive oil
20g butter
500g cherry tomatoes or grape or tear drop tomatoes
3 garlic cloves, finely chopped
1 cup dry white wine (250ml)
300 ml light cream
140 g crabmeat
1 bunch basil leaves, finely sliced
2 tablespoons parmesan cheese, grated. I used a lot more than this, I put some in the sauce and then more on top, as we love parmesan cheese.
Method
1. Cook pasta in a large saucepan of salted boiling water according to packet direction and then drain BUT reserving 1/4 cup of cooking water and then return pasta to pan.
2. Meanwhile heat oil and butter in a large frying pan on medium, until butter is foaming and add tomatoes and garlic and cook for 3 to 4 minutes, until tomatoes begin to soften.
3. Using back of a spoon, lightly crush tomatoes to release juices and add wine and simmer, stirring occasionalyy, for 15 minutes, until sauce thickens slightly and season with salt and pepper to taste. * I added the extra Parmesan cheese here and stirred until it had melted.
4. Add cream, crabmeat and reserved cooking water and simmer, stirring gently, for 1 to 2 minutes until heated through and then stir through basil.
5. Add sauce to pasta and gently toss to combine and divide pasta between serving bowls, scatter over parmesan and serve.
Serves 4
Prep Time: 15 Min's
Total Time: 35 Min's
All photos taken by me unless otherwise stated.