Tag-Archive for » Pesto «
My family grows thier own tomatoes so this is a great one to use up all those fresh picked tomatoes and it really hits the spot. I have made this a few times and it has always been met with rave reviews. You can make as many or as little as you like and just adjust accordingly. Also i prefer to use home made pesto as I make it so often so always have it on hand, but you can use your favourite store bought brand and it works just as well.
Ingredients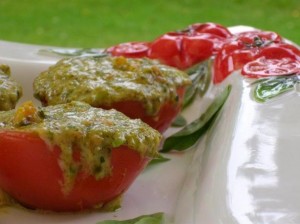 2 Tomatoes, halved lengthwise and seeded
salt & freshly ground black pepper
2 tablespoons basil pesto
1/3 cup gruyere cheese, grated
2 green onions, including green tops, sliced
2 tablespoons fresh parsley, chopped
Directions
1. Drain tomatoes, cut side down on paper towels for 10 minutes.
2. Place cut sides up in 8×8 baking dish, coated with cooking spray.
3. Season with salt and pepper.
4. In a small bowl, combine pesto, cheese, onions, and parsley.
5. Spread each tomato half equally with mixture.
6.Bake at 350 degrees, uncovered until tomatoes are warmed through and cheese is melted, 8-10 minutes.
Note: Do not overcook, as tomatoes will get mushy.
Leftovers reheat nicely.
Serves 4-6 as a side or an appetizer
Bon Appetit
All photos taken by me unless otherwise stated.
Be sure to check out my new YouTube channel The Real Female Flying Chef.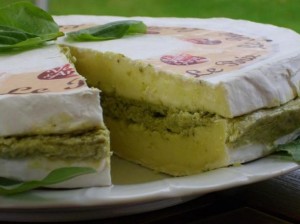 I made this one ages ago and I am only just getting around to posting it. I took way to long as it is delicious and is such an elegant way to present for such minima effort. The only time consuming thing here is that the cheese once assembled needs to be refrigerated for several hours prior to serving. This can be served as an appetizer for a party or as a plate on a buffet table, either way it looks amazing and is guaranteed to not only having your guests compliment you on the taste but the wow of the presentation. The 8 ounce brie listed below is what you would serve for a dinner party as an appetizer. I served a large round brie for a large garden party we were having and it was a huge hit.
Ingredients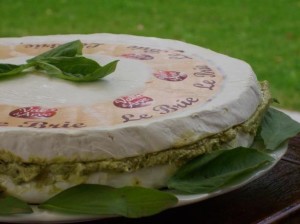 4 ounces cream cheese, room temperature
1 cup pesto sauce, room temperature
8 ounces brie round, chilled
garnish with basil leaves
Directions
1. Combine cream cheese and pesto until well blended.
2. Using a sharp knife split brie wheel in half horizontally. Place one half cut side up on round serving plate. Spread with cream cheese mixture pressing down firmly. Top with second half cut side down. Cover tightly with plastic wrap and refrigerate at least three hours.
3. To serve let torta come back to room temperature and garnish with basil leaves. Cut wedge to show layers.
All photos taken by me unless otherwise stated.
Bon Appetit
Check out my new YouTube channel The Real Female Flying Chef