Tag-Archive for » Brie «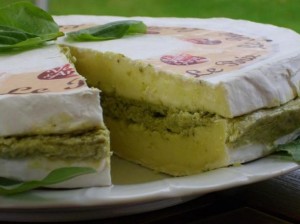 I made this one ages ago and I am only just getting around to posting it. I took way to long as it is delicious and is such an elegant way to present for such minima effort. The only time consuming thing here is that the cheese once assembled needs to be refrigerated for several hours prior to serving. This can be served as an appetizer for a party or as a plate on a buffet table, either way it looks amazing and is guaranteed to not only having your guests compliment you on the taste but the wow of the presentation. The 8 ounce brie listed below is what you would serve for a dinner party as an appetizer. I served a large round brie for a large garden party we were having and it was a huge hit.
Ingredients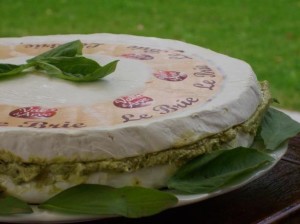 4 ounces cream cheese, room temperature
1 cup pesto sauce, room temperature
8 ounces brie round, chilled
garnish with basil leaves
Directions
1. Combine cream cheese and pesto until well blended.
2. Using a sharp knife split brie wheel in half horizontally. Place one half cut side up on round serving plate. Spread with cream cheese mixture pressing down firmly. Top with second half cut side down. Cover tightly with plastic wrap and refrigerate at least three hours.
3. To serve let torta come back to room temperature and garnish with basil leaves. Cut wedge to show layers.
All photos taken by me unless otherwise stated.
Bon Appetit
Check out my new YouTube channel The Real Female Flying Chef
This is a delicious way to prepare chicken that is very easy to prepare with a wonderful end result. I like to stuff my chicken breasts with a slice of cheese as well as top them for extra cheesy flavour. I also love using truffle brie although more expensive than regular you can not beat the taste, although regular brie is fine. The Dijon sauce adds a wonderful finishing touch to the dish which my whole family like.
Ingredients
Honey Dijon Sauce
1/3 Cup honey
3 Tablespoons Dijon mustard

3 Tablespoons meaux mustard
Chicken
1/4 cup Dijon mustard
1 tablespoon lemon juice
1 egg, beaten
1/4 teaspoon ground black pepper
4 Boneless skinless chicken breast halves
2/3 cup fine dry breadcrumb

1/4 cup butter
200g Truffle brie cheese (regular is fine we just love truffles and it adds so much flavour.)
Method
1. Preheat oven to 180 degrees Celsius.
2. Combine Dijon mustard, lemon juice, egg and pepper.
3. Cut slit in chicken open out breast and pound with meat mallet until of equal thickness. Lay a slice of brie on one side of the chicken and fold breast over to cover.
(You can just top with the brie cheese we just like to double up for added flavour, so take your pick.)
4. Brush chicken all over with mustard mixture.
5. Coat with bread-crumbs.
6. Melt butter in large frypan.
7. Sauté chicken until golden on both sides, about 3-4 minutes a side.
8. Place on baking sheet.
9. Bake in oven for 10 Minutes
10. Cut Brie cheese into thin slices, remove chicken from oven.
11. Place a slice on the top of each chicken breast.
12. Bake in oven for 10 minutes more or until cheese is melted and chicken is cooked through.
13. Heat sauce ingredients in a pan until combined.
To serve: Place on serving plate and spoon sauce over each chicken breast.
All photos taken by me unless otherwise stated.