Tag-Archive for » Easy «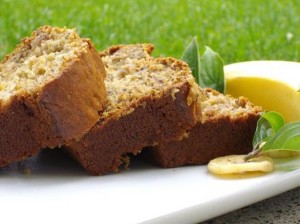 Here is a very simple banana bread recipe that turns out wonderfully moist and relies more on the natural favour from the banana rather than adding a bunch of other ingredients, like cinnamon and nuts. It is delicious straight out of the oven, when it cooled slightly but still warm. I usually love butter on my banana bread but this is delicious without it and oh so bananary, ok not an actual word but the best one to describe this.
Ingredients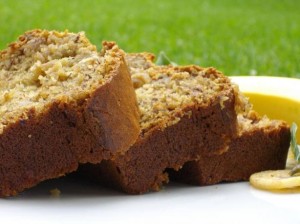 1 cup sugar
1/2 cup butter, softened
3-4 bananas, ripe, mashed
2 eggs, well beaten
1 1/4 cups cake flour
1/2 teaspoon salt
1 teaspoon baking soda
Directions
1. Preheat oven to 350 degrees farenheit.
2. In large bowl, cream together sugar and butter.
3. Add bananas and eggs.
4. Sift the cake flour, salt, and baking soda together three times. Blend together the banana mixture and the flour mixture, being careful not to overmix.
5. Bake in greased and floured loafpan for 45-50 minutes.
Enjoy!!
All photos taken by me unless otherwise stated.
Be sure to check out my new YouTube channel The Real Female Flying Chef. I will be adding more great recipes soon
I tagged this as part of 2 recipes by the same chef for a game I play on Zaar. It was absolutely delicious for such a minimal effort meal. I have 2 in my family that are not big fish lovers they will eat it but it would not be their first choice for dinner and both raved about just how good this was. I am making her second recipe today and if last night was anything to go by I an in for another treat today. This dish is really such a great combination of ingredients and you end up with a restaurant quality meal which is really easy to prepare. To read more reviews on this recipe or to view more photos please click
here
.
Ingredients
1 1/2lbs Catfish fillets, cut into strips
2 Teaspoons cajun blackening seasoning
4 Tablespoons mayonnaise
1 Cup sliced fresh mushrooms (can substitute canned, drained)

8 Tablespoons butter, divided
1/2 Cup chopped fresh parsley
1 Cup sliced green onion
1lb Peeled shrimp
2 (10 3/4 ounce) Cans condensed cream of shrimp soup
Method
1. Sprinkle catfish with blackened seasoning.
2. Spread catfish with mayonnaise.
3. Place in shallow dish; cover and refrigerate for 1 hour.
4. In a large skillet, heat 4 tablespoons butter until begins to sizzle.
5. Sear fish until golden, turning once.
6. Transfer to 9×13 baking pan in a single layer.
7. In a different skillet, heat 4 tablespoons butter, cook and stir mushrooms until golden.
8. Stir in parsley, green onions and shrimp.
9. Reduce heat to low and cook until shrimp are just pink through and through.
10. Stir in soup and blend well; turn off heat.
11. Ladle over fish (or chicken) in baking dish.
12. Preheat oven to 375 degrees and bake 30 minutes. (Reminder if fillets are thin, reduce cooking time).
I cooked mine all on the stove top and just topped the fish with sauce, it would probably be better to do chicken in the oven to be sure that it is cooked all the way through.
I served ours over wild rice with chopped red pepper and snow peas.
All photos taken by me unless otherwise stated.