Tag-Archive for » Banana «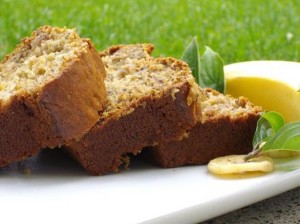 Here is a very simple banana bread recipe that turns out wonderfully moist and relies more on the natural favour from the banana rather than adding a bunch of other ingredients, like cinnamon and nuts. It is delicious straight out of the oven, when it cooled slightly but still warm. I usually love butter on my banana bread but this is delicious without it and oh so bananary, ok not an actual word but the best one to describe this.
Ingredients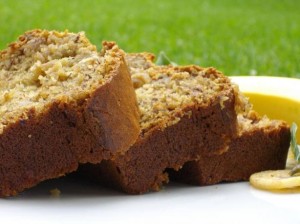 1 cup sugar
1/2 cup butter, softened
3-4 bananas, ripe, mashed
2 eggs, well beaten
1 1/4 cups cake flour
1/2 teaspoon salt
1 teaspoon baking soda
Directions
1. Preheat oven to 350 degrees farenheit.
2. In large bowl, cream together sugar and butter.
3. Add bananas and eggs.
4. Sift the cake flour, salt, and baking soda together three times. Blend together the banana mixture and the flour mixture, being careful not to overmix.
5. Bake in greased and floured loafpan for 45-50 minutes.
Enjoy!!
All photos taken by me unless otherwise stated.
Be sure to check out my new YouTube channel The Real Female Flying Chef. I will be adding more great recipes soon