Archive for » November 27th, 2013«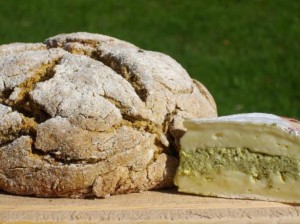 This is so quick and easy to make… It reminds me of Irish soda bread.. I have my aunt here at the moment and her husband is Irish and the first thing that she said when she tasted it was.. "This is just like Irish soda bread, oh yum have not had this in ages." The description is right that it is like a giant scone in its texture, it would pair very well in winter with a good hearty soup and then this bread to dip in it.. It is summer here and I made it to go with a platter that we were having on the terrace.. It was tried with both savoury and sweet toppings and as it is a little drier than conventional bread mixes the consensus was that it was great spread with butter and jam, my son had it with peanut butter and jam not my favourite but he liked it. There was also those who had it topped with honey, I personally just like it with some butter but I so love my butter. I am going to be posting some of my proper bread recipes soon and by that I mean made from scratch with yeast and taking you through the yeast rising process. I know fresh bread scares a lot of you but it is not as hard as it sounds and I can't wait to teach you and have you making bread from scratch hot out of the oven for your family breakfast.
Ingredients
2 1/2 cups plain flour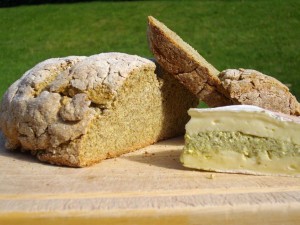 2 1/2 cups wholemeal flour
3/4 teaspoon baking soda
3/4 teaspoon salt
1 tablespoon butter
1 3/4 cups buttermilk
Directions
1. Preheat oven to 190°C Sprinkle a teaspoon of the plain flour over the centre of a baking tray and set aside. Put 2 teaspoons of plain flour into a small bowl and set bowl aside.
2. Meanwhile, put the remaining plain flour, wholemeal flour, baking soda and salt into a large bowl and mix well with your hands to combine.
3. Add the butter, breaking it up into small pieces with your fingers, and mix it into the flour mixture until combined.
4. Make a well in the centre of the flour-butter mixture and add the buttermilk.
5. Slowly add the buttermilk into the mixture with your hands until a rough ball forms.
6. Turn the mixture out on a lightly floured surface and form into a neat ball (without kneading).
7. Transfer the dough to the centre of the baking tray and press gently to form a 20cm-wide round.
8. Using a sharp knife, slash a cross 1cm deep across the entire top of the loaf and then dust the top of the loaf with the reserved flour.
9. Bake until the bread is light golden and a tap on the bottom of the loaf sounds hollow, about 60 minutes. N.B. Oven temperatures do vary so keep an eye on its baking — some oven's may take less and other's longer.
10. Wrap the bread in a clean tea-towel, and allow to cool slightly.
Slice and serve at room temperature or toasted, with a generous dollop of butter.
All Photos taken by me unless otherwise stated.
I am posting a Gluten Free recipe to give some love to all my followers who are gluten intolerant. Be sure to make sure that the ingredients you buy are listed as gluten free to make sure that it is truly gluten free if required for your diet. The dipping sauce is delicious and compliments these little gems perfectly I have listed adding rice wine or sherry I like to do a combination. I hope you enjoy.
Ingredients
Chicken Balls
2 chicken breast fillets
3 tablespoons vegetable oil
1 brown onion, finely diced
1/2 stick celery, finely diced
1 tablespoon gluten-free soy sauce or 1 tablespoon Braggs liquid aminos
1 egg, lightly beaten
salt, to taste
pepper, to taste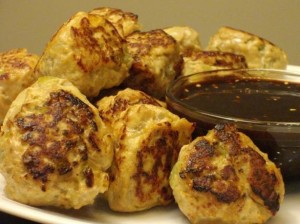 Oriental Dipping Sauce
3 tablespoons soy sauce, gluten-free or 3 tablespoons Braggs liquid aminos
1 tablespoon oyster sauce, gluten-free
2 tablespoons rice wine or 2 tablespoons dry sherry
1 teaspoon toasted sesame seeds
Directions
1. Dice the chicken fillets into very small pieces.
2. Heat 1 tablespoon of oile in a preheated wok or frypan/skillet and and stir-fry the chicken over high heat for 3 minutes or until golden. Remove from wok and set aside.
3.Add the finely diced onion and celery to the wok and stir-fry for 1-2 minutes, until softened.
4. Place the cooked onion, celery and chicken into a food processor and process until finely minced.
5. Add soy sauce and enough egg to make a firm mixture. Season with salt and pepper.
6. Using damp hands, shape the chicken mixture into about 30 balls. Refrigerate.
Dipping Sauce
1. Mix all the sauce ingredients in a small bowl and set aside.
Finish Meat Balls
1. Heat the remaining oil in a wok or pan and stir-fry the chicken balls until golden. Brown a few at a time- 6 was suggested inthe original recipe.
2. Drain the chicken balls on paper towel and keep warm.
Serve the chicken balls on toothpicks with the dipping sauce.
Bon Appetit
All photos taken by me unless otherwise stated
Please check out my new YouTube channel The Real Female Flying Chef