Tag-Archive for » Pastry «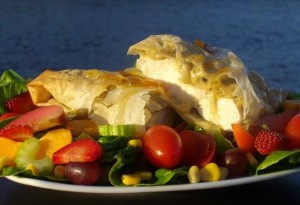 I made this one a little while ago from a recipe swap I was involved in and it was totally delicious. I do not use phyllo pastry hardly at all so was a little concerned that it might be a bit fiddly to assemble but it was very easy. The end result tasted divine, it was fairly simple to make and the dish turned out 5 star restaurant quality. Both myself and another reviewer thought the same and you can view the recipe and read those reviews here. I used Gruyere for the cheese as we love this and served the chicken phyllo over a salad that included chopped fresh fruit for a very enjoyable meal.
Ingredients
8 sheets phyllo dough
1/2 cup melted butter
4 boneless skinless chicken breasts, flattened
Filling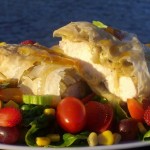 2 tablespoons butter
2 cloves garlic, minced
2 shallots, thinly sliced 1 large portabella mushroom, cleaned,diced 1/4 teaspoon thyme
1/2 teaspoon sea salt
1/4 teaspoon fresh ground black pepper
2 teaspoons flour
1/8 cup dry white wine, good quality
1/2 cup swiss cheese, coarsley grated
Apricot Lemon Glaze
1/2 cup apricot preserves, could use peach
2 lemons, juice of
Method
Step 1 Filling
1.  In a sauce pan saute mushroom in 2 tbsp of butter until golden brown, then set aside.
2.  Next lightly saute shallots and garlic in same pan.
3. Mix mushrooms and shallots together add thyme, salt, pepper and flour to vegetables and mix well.
4. Now add the white wine and cook till all liquid is absorbed.
5. Taste, reseason if necessary and set aside to cool.
6. Once cooled add grated cheese to mixture.
 Step 2 Phyllo Preparation- Preheat oven 350 degrees
1.Brush 1 sheet of phyllo with melted butter.
2. Place a second sheet over the first and brush with melted butter.
3.  Place the flattened chicken breast in the lower half of the phyllo sheet.
4. Put 1/4 of the filling mixture ontop of the chicken.
5.  Fold the sides of the phyllo over the chicken envelope style.
6.  Place on a baking sheet, seam side down, brush with melted butter.
7.Do the same to remaining chicken and bake in a 350 degree oven for 35 minutes.
Step 3- Apricot Lemon Glaze
1. Heat apricot preserves and lemon juice together until well mixed.
2. Pour a small amount of glaze overtop of cooked phyllo chicken and serve the rest of the sauce on the side.
Prep Time: 20 min's
Total Time: 55 min's
Serves 4
All photos taken by me unless otherwise stated.
This is a little more time consuming to make than other recipes I have posted recently but it is well worth the effort and all the steps involved. I tagged this one for a recipe swap game I am involved in and I am so glad that I did. This tart is better than any I have bought at the bakers and we live in Europe so we get some great ones, especially at the little village bakeries. To view more photos and the original recipe by this chef please click
here
. I did not change the recipe at all but just wanted to list the link. I have made several recipes now by this chef and she has some wonderful ones so be sure to check out more of her recipes whilst you are there.
Ingredients

Pastry
75g Cold unsalted butter

175g Plain flour, sieved
Zest of a lemon
1 Tablespoon caster sugar
1 Egg
Splash cold water
The Filling
650g Fresh apricots, not too ripe
2 Tablespoons soft light brown sugar

6 Tablespoons ground almonds
2 Large free-range eggs
50g Caster sugar
1 Vanilla pod
200ml Double cream or whipping cream
Glaze
5 Tablespoons apricot jam
To
Finish
Icing sugar
Fresh edible flowers
Creme fraiche or cream

Method
1. Heat oven to 200ºC/400ºF/Gas Mark 6. To make the pastry place the cold butter into a food processor with the sieved flour and lemon zest. Blitz until the mixture becomes the texture of breadcrumbs.
2. Whisk the sugar into the egg then pour into the machine with a splash of water. Blitz just long enough for the mixture to form a ball. Remove with your hands and ensure you have a nice firm ball by moulding with your hands. Wrap in cling film and leave in the fridge for at least an hour.
3. Meanwhile halve and stone your apricots then place on a baking tray cut side up. Sprinkle all over with the light brown sugar then bake them in the oven for 15-20 minutes until they are soft to the point of a knife but not falling apart.
4. Roll out and line a 25cm loose-bottomed tart tin with the pastry. Chill again for ideally an hour but a minimum of 30 minutes.
5. Once rested prick all over the base with a fork then line with parchment paper and follow with baking beans. Bake blind for 15-20 minutes until the base is just beginning to crisp but has not browned. Remove the beans and allow to cool.
6. Sprinkle the ground almonds all over the base then top with a layer of apricots. In a large bowl, whisk the eggs and sugar together until light and fluffy. Remove the vanilla seeds from the pod and whisk into the egg mixture along with the double cream or whipping cream.
7. Place the tart onto a baking tray then carefully pour over the custard mixture. Place in the oven for 15 minutes then lower the heat to 180ºC/350ºF/Gas mark 4 for a further 15-20 minutes when the custard should be set and a lovely golden colour.
For the Glaze
Warm the jam and allow to cool just above room temperature and then pour or spoon it over the tart.
Allow to cool before slicing and serving with crème fraîche, plenty of icing sugar and some edible flowers.
All photos taken by me unless otherwise stated.